Posts tagged
free belgium windows server 2012 r2 hosting
HostForLIFE.eu proudly launches the support of Windows Server 2012 R2 on all their newest Windows Server environment. On Windows Server 2012 R2 hosted by HostForLIFE.eu, you can try their new and improved features that deliver extremely high levels of uptime and continuous server availability start from €3.00/month.
Microsoft recently released it's latest operating system Windows Server 2012 R2 to global customers. Microsoft Windows Server 2012 R2 is much more than just another service pack; adding new features that make it easier to build cloud applications and services in your datacenter.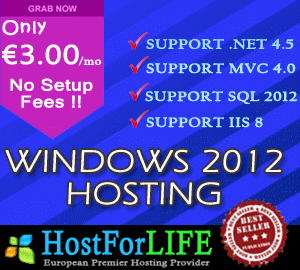 Delivering on the promise of a modern datacenter, modern applications, and people-centric IT, Windows Server 2012 R2 provides a best-in-class server experience that cost-effectively cloud-optimizes your business. When you optimize your business for the cloud with Windows Server 2012 R2 hosting, you take advantage of your existing skillsets and technology investments.
You also gain all the Microsoft experience behind building and operating private and public clouds – right in the box. Windows Server 2012 R2 offers an enterprise-class, simple and cost-effective solution that's application-focused and user centric.
Further information and the full range of features Windows Server 2012 R2 Hosting can be viewed here: http://hostforlife.eu/European-Windows-Server-2012-R2-Hosting

About Company
HostForLIFE.eu is European Windows Hosting Provider which focuses on Windows Platform only. HostForLIFE.eu deliver on-demand hosting solutions including Shared hosting, Reseller Hosting, Cloud Hosting, Dedicated Servers, and IT as a Service for companies of all sizes.